Rib Fest 2022
Rib Fest to return in 2022 with Shenandoah and more
FRIDAY& SATURDAY, JULY 15TH & 16TH, 2022
As heard live on My Country BOB 106, country music hitmakers Shenandoah will headline the 11th annual B's on the River Rib Fest Saturday, July 16th, 2022 in Watertown. Also back by popular demand is The Artimus Pyle Band, featuring original member of Lynyrd Skynyrd and member of the Rock and Roll Hall of Fame Artimus Pyle, honoring the music of Ronnie Van Zant's Lynyrd Skynyrd. Butch Automatic and the Four Speeds will open up on the main stage, along with Jason Paulson starting off the day under the tent. The weekend will kick off with Friday Night's Pre-Rib Fest Party featuring music from The Shalo Lee Band.
"It is hard to believe we haven't had a Rib Fest in two years," said B's on the River owner Bryan Baumann. "But we are grateful to be back and better than ever."
Baumann is excited to bring Shenandoah and The Artimus Pyle Band to Rib Fest.
INTRODUCING OUR 2022 ARTISTS:
About Shenandoah
When country music lovers talk about the greatest groups in the genre, Shenandoah is always at the forefront of any discussion. Fueled by Marty Raybon's distinctive vocals and the band's skilled musicianship, Shenandoah became well known for delivering hits such as "Two Dozen Roses," "Church on Cumberland Road," and "Next to You, Next to Me," as well as such achingly beautiful classics as "I Want to be Loved Like That" and the Grammy-winning "Somewhere in the Vicinity of the Heart" duet with Alison Krauss. Shenandoah has recorded ten studio albums (3 certified gold) and placed 26 singles on Billboard's Hot Country Songs chart. The boys from Muscle Shoals have left a potent legacy at country radio with over a dozen number-one records.
Several years back, the group signed a recording deal with BMG and released their first new album in two decades to celebrate their 30th anniversary. Shenandoah premiered the debut single off the album, "Noise," on SiriusXM and marked their first release to radio in 20 years. The track is produced by Jay DeMarcus of Rascal Flatts and hit the top 30 at radio. The new album, "Reloaded," was their highest debuting album on the Billboard Chart of their entire career. It also debuted in the Top 15 on the iTunes Charts, which was another first.
"We have been blessed for the last 35 years with songs that have that spoken power to move people," said lead singer Marty Raybon. "So, we say thank you to the Lord for His strength, the fans for their loyalty, the songwriters for great songs and the producers that helped them come to life. It's made this 35 years a road trip I would have hated to miss."
About The Artimus Pyle Band
He played on the hits...
He survived the plane crash...
He is a member of the Rock and Roll Hall of Fame...
And now, The Artimus Pyle Band, honoring the music of Ronnie Vant Zant's Lynyrd Skynyrd, featuring legendary Lynyrd Skynyrd drummer Artimus Pyle, will take the stage at Rib Fest for the second time for a special performance that is not to be missed. Since his departure from Skynyrd in 1991, Pyle's career has led him down an amazing path of solo records and projects, culminating into one of the finest tributes to southern rock royalty.
Long considered the "wild man" of Lynyrd Skynyrd, Artimus Pyle's powerful and distinctive double bass drumming helped define the legendary Skynyrd sound. In addition to Pyle, the band also features Brad Durden on vocals/keys, Scott Raines on guitar, Jerry Lyda on guitar, and Dave Fowler on bass. From "Freebird" to "Sweet Home Alabama," Artimus Pyle Band gives fans the best of Skynyrd with one of the men who made it.
About Butch Automatic and the Four Speeds
A Rockin' and Rollin' good time has been a guarantee when Butch Automatic & the Four Speeds hits the stage as they knock out hits from the 50s and 60s. From their intricate Doo-Wop harmonies and rockers by Buddy Holly and Elvis to sing-a-long hits from Roy Orbison, the Everly Brothers and the Beatles, Butch Automatic has entertained generations of Rock n' Roll music fans.
Ballrooms and concert halls throughout Minnesota and beyond have filled to capacity week after week with fans of high-energy rock and roll; the place to be to listen and dance to popular tunes every classic music lover knows. In fact, it's likely any fan of the early rock years knows every song Butch Automatic performs and probably most of the lyrics too!
Originating in the Watertown-Delano area in the mid-70s, Butch Automatic & the Four Speeds has been a local music mainstay in the area for years, often performing at benefits and street dances. In recent years they scaled back their performance schedule, focusing primarily on fundraisers and special events. So after a two-plus year hiatus from live performing, the gang from Butch Automatic is thrilled with the opportunity to return to their roots and share their love of classic rock n' roll music on stage at Rib Fest. Put on your dancing shoes and be ready to sing along to your favorites!
About Jason Paulson
Jason Paulson is not your average country artist. He trades the glitz and gloss of current country radio for an honest storytelling, north and woods stomp that is every bit as powerful as it is meaningful. In a world with an attention span growing shorter and shorter, Jason implores his fans to take a longer look at the world, the people around them and at themselves, and the end result has been staggering.
After gaining a regional respect and fan base with his band Grayson throughout the 2000s, Jason found himself at a crossroads in the fall of 2012 when he decided to take the next steps in his musical journey.
His first album "American Dream," recorded under the name "Jason Paulson and Friends," was that first move. While still playing with Grayson, Jason asked a group of friends to help him record some songs. "American Dream" charted on the independent radio charts with "Lonesome Song."
With a new band and a new batch of finely tuned songs, Jason and crew headed back into the studio to record "Daddy's Eyes." The album is filled with the struggles of ordinary people managing to find their way through hopeless situations; the love of family and the baggage that can come through it; and the fight between right and wrong, good and evil, and the forgiveness that comes through it. With two songs charting on the Independent radio charts, videos reaching 100,000+ views and a sound all their own, the acclaim keeps pouring in.
Riding on the success of " Daddy's Eyes," Jason and crew spent the next 2 years on the road, playing over 300 shows and opening or sharing the stage with a wide range of acts, including Keith Urban, Uncle Kracker, Joe Walsh, Corb Lund, Little Big Town, Gary Allen, Phil Vassar, Gear Daddies, and numerous others.
After a short break in the late winter of 2015, Jason and his road-tested band entered the studio again. They came in with a double disc album in mind and 24 songs in hand. They set up in Summit House Studios and recorded History Volume I & II, which contain 18 originals and 6 covers.
BOB 106 Friday Night Pre-Rib Fest Party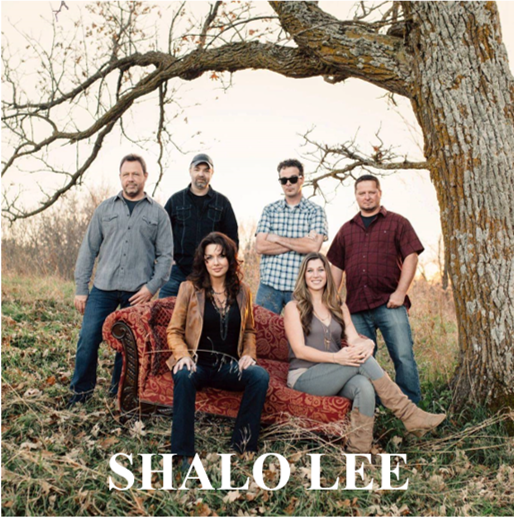 About The Shalo Lee Band / B's Pork Chop Dinner
Pre-Rib Fest Info
Friday, July 15th, 2022
The Shalo Lee Band is a high-energy female-fronted southern rock band from Minneapolis headed up by critically acclaimed singer/songwriter Shalo Lee.
Complete with four-part lead vocals, screaming guitars, a killer rhythm section and major fiddle antics, the impressive talent factor has catapulted this band to headlining fairs, festivals, and private events to opening for national stars from state to state. The scope of this band is wide, mixing equal parts original songs with electrically-charged covers done their own way, with a unique mix of grit, soul and charisma.
The band has a long history of dynamic performances and has shared the stage with numerous national recording acts. Combining years of stage experience, rich harmonies, outstanding instrumentation, and youthful energy, The Shalo Lee Band covers a vast range of songs from contemporary country artists to that of classic southern rock legends as well as Shalo's original songs. Because of this, the band has established a loyal following through a commitment to quality, high-energy performances and undeniably rowdy fun.
There is no cover for the live music or to attend the Friday night festivities. The Friday night pre-Rib Fest Party will also feature the ever-popular pork chop dinner plus prizes and ticket giveaways. Baumann also encourages fans to, "Camp along the Crow," and make a weekend out of it by staying at B's on the River the entire weekend.
RIB FEST 2022 SCHEDULE
Friday - No Cover Charge
12pm-Dusk Accepting Camping Units
6pm-Gone Pork Chop Dinner
6:30pm-10:30pm The Shalo Lee Band
Saturday
8am BBQ'rs Arrive / Accepting Camping Units
10am Cooker's Meeting
2pm Gates Open
2pm Food Truck Opens / Kids Events / Rib Tasting Kits on Sale
Bean Bag Registration (By Kid's Bouncy Houses)
2-5pm Jason Paulson (Under Tent)
2:30pm Rib Contest Turn In
2:50pm Pick-Up Rib Tasting Kits
3pm Bean Bag Tournament Starts (By Kid's Bouncy Houses)
3-4:30pm Rib Tasting Begins
4:30pm VIP Opens
4:30pm Rib & Chicken Buffet Line Opens
$15 Adults $10 Kids 9 & Under
5-7pm VIP Buffet Line
5-7pm Butch Automatic and the Four Speeds
7-7:30pm Announce Rib Contest Winner / Sponsor Recognition
7:45-9:15pm The Artimus Pyle Band
9:45-11pm Shenandoah
11pm Fireworks
No Senior or Veteran Discounts
Backyard BBQ Rib Contest
Our Backyard BBQ Rib Contest is a fun rib cooking contest (limited number of cooking spaces available). Cooks will prepare 10 full racks of ribs, all furnished by B's on the River. This is an opportunity for you to show your rib cooking skills off! The cooks furnish seasonings and sauce, along wth serving up their tasty ribs to guest tasters. Your ribs will be judged first by KCBS (Kansas City Barbeque Society) certified judges and then by our guest tasters.
2022 Ribfest Contest Entry Form
*Notice of Change: Rib Contest Cookers may start cooking as soon as they receive their ribs. Ribs will be available starting at 7am Saturday.
General Pricing
VIP: Includes: Admission, private viewing area in front of the stage, private bar, All-You-Can-Eat BBQ Rib and Chicken Dinner, private seating area for dinner, 2 free drinks and private bathrooms. (*In response to guest requests, the VIP area at Rib Fest will NOT include seating in front of the stage. There will be stand up bars with assigned spots for each ticket holder. VIP ticket holders will have access to the exclusive VIP tent, which does include seating, in addition to the private viewing area in front of the stage*): $100
General Admission: In Advance: $35 At the Door: $45
All-You-Can-Eat BBQ Rib and Chicken Buffet: $15
Camping: 3 nights (Thursday/ Friday/ Saturday): $125
Tickets will be available for purchase by clicking here or at B's on the River, 1455 County Road 27, Watertown, MN. General Admission tickets will be sold the day of Rib Fest.
Camping
Primitive camping (no electrical or water hook-ups) is available at B's on the River Rib Fest 2020. One sleeping unit (ie. camper or tent) and one vehicle per site is allowed. Campsites must be reserved by July 7th, 2022 and will not be available for purchase at the gate the day of the event. Fires and pets are not allowed.
Campers will be accepted after 7pm on Thursday, July 14th.
Hotel Accomodations
GrandStay Hotels
395 13th St S, Delano, MN
(763) 972-4303
AmeriVu Inn and Suites
550 Cherry Dr. Waonia, MN
(952) 442-8787
Cab Services
Christie Cab
(763) 913-4889
Thank You to all of the 2022 Rib Fest Sponsors!
Republic Services, Gallus Painting, MBE, Fobbe Electric, Bursch Brothers Sand & Gravel, Anchor Plastics, Vanderlinde Group / ReMax Edge, Fine-Line Foundations, Mikie's Landscaping, Stein Heating & Cooling, Hecksel Machine Shop, Class Act Outdoor Furnace, Kohl's Dairy, M & K Construction, Vital Signs, K-Way Trucking, Rocket Crane, Davis Motorsports / Chevy, Bagy Jo Inc., Delano Dental, Bauer Design Build, Showcase Lawncare, Baumann Financial
Disclaimers: B's on the River/Rib Fest is not responsible for lost or stolen tickets, personal injury, or loss, theft, or damage to personal property. By attending Rib Fest, you acknowledge and agree your photo may be used in future promotional materials, including but not limited to social media. B's on the River/Rib Fest has the right to inspect persons or parcels. Chairs, food, beverages or coolers may not be brought into the music area. Must be 21 or older to purchase or consume alcoholic beverages in any event area. Violators will be ejected. Please carry a picture ID with you at all times. No pets allowed. No audio or video recording of any kind is permitted. No refunds for anyone ejected for rule violations. Call for handicap accommodations. Rain or shine event. No refunds or exchanges. Artists subject to change without notice. Firearms are not permitted anywhere on B's on the River property.